*All pre-order special items will be shipped starting on the 1st of the next month after the order is placed, and will be delivered within 3 months.
Want to pursue a different kind of "beauty"? , This plan is your best choice . In addition to being able to find products other than those in our product library, there will also be dedicated personnel to realize your imaginary plan as much as possible to satisfy your "beauty" .
Life is about choice.  Start right now(Tell us what you want).


**Purchase Process and Things to Know**
1. Please inquire about the furniture type/wood color you want before purchasing, and consider whether you want it.
2. If you need furniture, you can make an appointment to come to your door. Consultation and ideation.
3. After the plan is confirmed, the furniture ordering fee and design fee will be charged (the quotation will depend on the size of the environment/number of projects).
4. Finalize order (delivery within 3 months)
*You can choose to pay online, by transfer or cash. Some payment methods have handling fees, please consider carefully before choosing*

**Charges to be informed **
*Every visit A fee of 800HKD is required for consultation and conception, and will be refunded after a successful order.
**Need to know the refund situation **
The first stage:
door-to-door Unsuitable after negotiation - refund the balance after deducting the negotiation fee/credit card processing fee (if any). Second stage:
go through Not suitable after consultation/conception - returned deduct Negotiation fees /The balance other than credit card processing fee (if any) and 5% design fee
The third phase:
go through Not suitable after consultation/conception/order - no refunds


Share
View full details
Q&A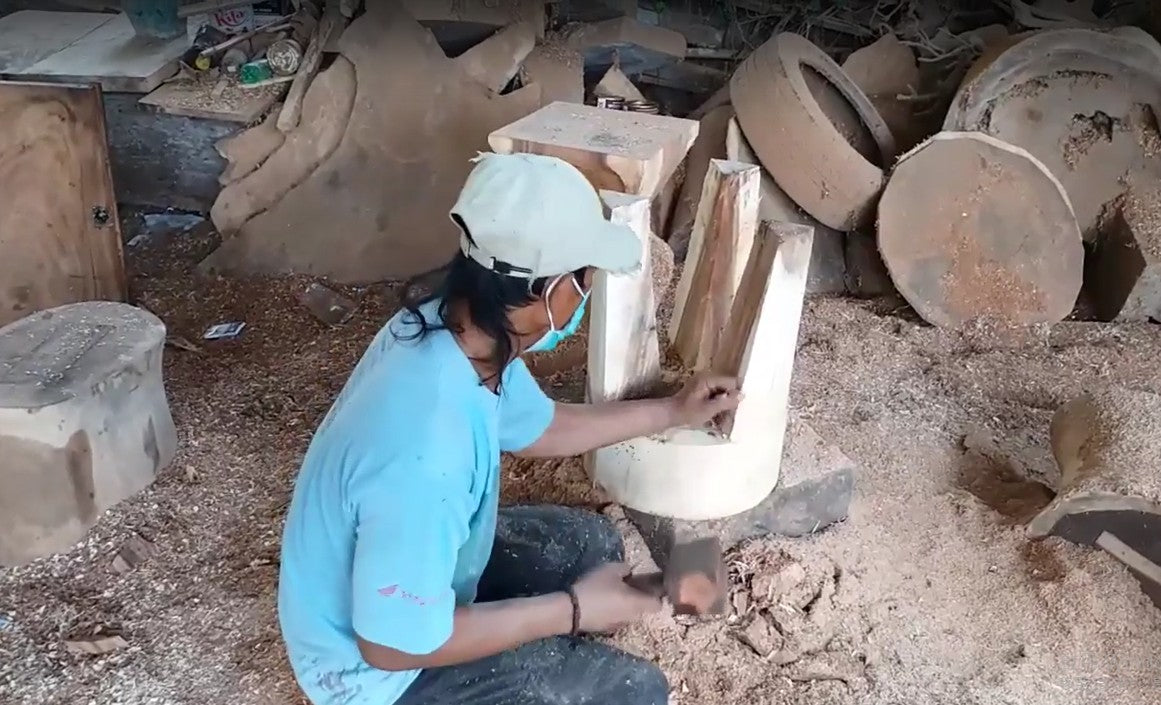 WUD product origin

The original packaging is imported from Central Java, Indonesia, not produced in China.
WUD furniture features

The solid wood and log furniture sold by WUD are directly imported from Central Java, Indonesia, and the large furniture is made of high-grade teak without dead joints.

1. No padding is used to keep the appearance neat.
2. The front wood grains are neatly arranged and the texture is elegant.
3. Use different water-based paints to make the overall color uniform, and the paints do not contain harmful chemicals that harm the skin.
4. The outer layer of water-based paint is added with NC paint to strengthen the protection of the wood surface.
5. Each piece of log furniture is unique, and cracks, spots, and textures on the wood surface are all natural phenomena.
Daily maintenance of WUD solid wood furniture

1. Daily cleaning: Wipe with a soft cloth, not too hard.
2. Removal of stains: Dilute neutral detergent with warm water for cleaning, do not use corrosive and chemical cleaners.
3. If the wood surface starts to dry, use a cotton cloth to wipe teak oil or wood wax oil every six months to keep it moist and make the wood furniture more durable.
Tips for using WUD furniture

1. For indoor use only
2. Avoid long-term placement in air-conditioning or heating outlets to prevent wood from being affected by temperature
3. Prevent chromatic aberration: avoid direct sunlight, and change the position of objects on the furniture from time to time
4. The colored liquid splashed on the solid wood should be disposed of immediately to prevent the wood surface from staining
5. Clean along the grain of the wood
6. When moving furniture, please hold up the furniture and do not drag it directly on the ground
7. Use table mats when placing hot or cold objects
8. Furniture should be used on a flat surface so as not to damage or loosen metal fittings
9. If the wooden surface is accidentally scratched, please find a professional carpenter to repair it
10. The product photos are for reference only, the actual color may be different from the photos.